In collaboration with 
NPE Friends Fellowship announces:
The NPE Trauma Informed Coaching Program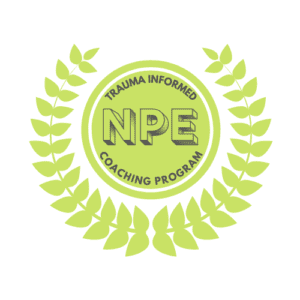 With the birth of widely available DNA tests came an unexpected result – individuals making the discovery that at least one assumed parent is not their biological parent.
Discovering these truths, once buried family secrets, has been a blow that came from nowhere, one they certainly were not prepared for. As a result this knowledge has been like a powerful earthquake, shifting and even fracturing their sense of self and their relationships with family. It can leave them feeling lost, betrayed, heartbroken and confused. They may feel intense grief because they have lost the family they thought they had and missed out on the chance to have a relationship with their true parent or siblings.
In order to cope with this emotional pain, some individuals have reached for maladaptive coping mechanisms such as food, alcohol or drugs. Others may experience a disruption in their ability to maintain their marriage relationship or even to do their job. Finding out that your parent is not who you thought they were is a trauma and the after effects of trauma are significant and far reaching.
Thousands of people need help navigating the waters of learning they are an NPE. But there is not a body of professionals who know and understand NPE. Others cannot understand why it could be disruptive and painful, thinking it's just a minor annoyance rather than recognizing it can cause so much of life to unravel.
THIS CERTIFIED NPE TRAUMA RECOVERY COACHING PROGRAM CHANGES EVERYTHING
Would you like to become an NPE Trauma Recovery Coach?
For more information about how you can become a Certified NPE Trauma Recovery Coach, please visit The International Association of Trauma Recovery Coaches website for more course, pre-requisite or registration details.
THE NPE TRAUMA RECOVERY COACHING PROGRAM IS THE FIRST OF ITS KIND

IN THE WORLD.
What Is A Life Coach?
vs.
What a Life Coach Is Not
What is a Life Coach?
A Coach can help you gain awareness, identify obstacles, clarify your vision for the future and create an action plan. A Coach may assist with relationships, goals, business, unexpected life turns and much more. They are there to help you process through many of life's changes, decisions and day-to-day living.
A core belief of Coaching is that you, as the client, already have everything you need. A Life Coach is someone who walks alongside you. They do not tell you what to think, feel or believe. They are not there to judge.
Coaches often have an area of expertise based on their training or personal experiences.
Feeling a connection or "good fit" with your Life Coach (or counselor) is extremely beneficial and encouraged. If you do not feel a connection or just don't "click", it is not necessarily a reflection of the Coach, coaching process or yourself.
Coaching sessions may be held in person, online or by phone – whichever the Coach or client prefer.
What a Life Coach is not.
A Life Coach is not a licensed mental health professional. However, many counselors and clinicians are now practicing with a Life Coaching model.
A Life Coach is not qualified to diagnose any condition or prescribe medication.
Coaching vs Therapy
Life Coaching is not intended to replace licensed, professional assistance. In fact, a trained Life Coach will recommend you to a therapist if they recognize mental or emotional needs beyond their level of training.
Why has NPE Friends Fellowship chosen to partner with a Coaching Association?
We feel the need to address the emotional and mental needs of the NPE community is great. At this time, this is an underserved area of study and informed professional assistance. While there are professional differences in the mental health community, Life Coaching is a valid and recognized form of life-supporting assistance. We chose to move forward with developing an NPE Trauma Informed Coaching Program to help fill the gap and raise awareness within the mental health community.
A number of our staff and committed volunteers have completed the Basic Program from The International Association of Trauma Recovery Coaches. We found it to be thorough and in-depth, professional and quite the academic challenge! Any person who has completed and passed the prerequisite program, The Initial Trauma Recovery Coach Certification as well as the Advanced NPE Trauma Informed Certification will have received over a year's worth of focused study.
We take the mental and emotional health of our NPE community seriously.
A panel of qualified professionals have collaborated on the NPE Trauma Informed Coaching Program – this includes our staff, NPE community and mental health workers. Accredited, science-based specialized courses can take years to develop – especially in a brand new arena of expertise. An NPE Discovery is still a relatively new phenomenon. Because of this, there is very little data or completed scientific research.
Instead of piecing together existing trauma therapy programs or relying on personal NPE experience alone, we believe it is important to be patient until such time as multiple forms of qualified research is presented. At that time, NPE Friends Fellowship is ready, partnering with a team of experts, to produce a program valid in academic circles.
*NPE Friends Fellowship is not a licensed counseling or therapy agency. If you have had an unexpected life discovery or life altering event, please seek professional help. If you are feeling depressed or suicidal, seek professional help immediately or call the National Suicide Prevention Hotline 1-800-273-8255.